AAC Board of Directors – September 2017 Meeting Highlights (unofficial)
Highlights of the AAC Board meeting held on Thursday, September 21, 2017.
On Course will be revised into both a bi-monthly newsletter for all competitors, and a member-only quarterly summary effective September 21, 2017.
Rule Clarifications/Amendments:
Correction of French translation in AAC Rulebook regarding fouling in the ring. Motion 170903.
Regional Equipment requirements for number of wing/wingless jumps revised effective immediately. Motion 170905.
Ring Crew descriptions clarified with updates to be added to the AAC Rulebook and the Judges Handbook. Motion 170910
Section 2.9.3 Maximum Course Time &/or Faults in AAC Rulebook amended to: The Judge and trial committee may, at their discretion, set a maximum course time (MCT), after which a dog and handler will be dismissed from the ring. The MCT for all classes should be set to Mini Veteran Course Time plus 20 seconds. MCT for Challenge shall be Mini Veteran Target Course Time plus 20 seconds.
The Judge and trial committee may also, at their discretion, set a maximum number of course faults after which a dog and handler will be dismissed from the ring. Effective July 1/19. Motion 170907
Judges Clinics Scheduled:

Red Barn Event Centre in Barrie, ON on Dec 15-17, 2017
Pacific Agility Clan in Maple Ridge, BC on Mar 2-4, 2018

Safety
The Safety Committee asked that the AAC advise that there is a slight potential for dogs to get a leg trapped between planks and metal supports of the dogwalk.
The Safety Committee recommends that equipment owners and users consider covering the gap between the metal bars on the dog walk plants to decrease the risk of future incidents to dogs either going on or coming off of the side of the equipment.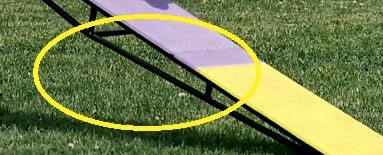 National Team:
A new website is being created, which will be continually owned and managed by Team Management going forward.
2017-2018 AAC National Team was officially announced, with congratulatory letters, team contracts and a code of conduct sent to all.
Regionals and Nationals:

A National host has the option of using the AAC Equipment Container or not. The content list of the Equipment Container is to be supplied for the National Hot. Expenses will not be approved for purchasing items that are in the Equipment Container.
Bids have not been received for these 2019 Regional Championship: BC/YK, AB/NT, SK/MB/NU, NB/PI, NS/NL. If you are interested please contact the National Steering Committee Chair. Contact information can be located at: http://www.aac.ca/en/contact/main/#CO
To obtain a copy of the AAC Board minutes (in English or French, once approved), email Blanche Cooper at admin@aac.ca.
The next Board meeting is scheduled for Thursday, October 19, 2017.