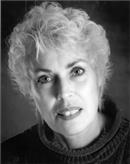 The dog sports community of B.C.'s Interior lost a bright light on April 7th, when Adele McNiven passed away. Adele loved training dogs - and she excelled at it. She also loved her many whippets – Little Dude, Montana, Gunner, Zoomy, Poppy, Bec and Elsa.
She became president of the Whippet Club of B.C. in 2002, and she built it up from a small club to a thriving one that hosted events in Agility, Rally-O, Obedience, CARO Racing and Confirmation. Adele was a judge in Agility (AAC, UKI and CKC), Lure Coursing (both in Canada and the U.S.), Rally-O, and DOCNA. She was also the CKC Rep for B.C., and played an integral part in developing new CKC events. As if that wasn't enough, she was also a Canine Good Neighbour Evaluator, and wrote articles for several dog sports publications.
On top of all these accomplishments, Adele and her husband of 51 years (Don) found time to travel the world, often by motorcycle. And she always found time to spend with her three children, Darren, Heather and Neil, and her adored grandchildren, Makena and Corbin.
Adele will be greatly missed by all who knew her; her enthusiasm for life and for dog sports was a joy to experience. She was truly one of a kind.
Jan Johnson, CODAC